INEOS Styrolution America will be featured in episode 19, of EARTH with John Holden; airing in March 2022. EARTH, hosted by six-time Emmy award winner and former NBC News correspondent, John Holden, takes its audience around the globe providing an in-depth look at innovative solutions, ideas, and technologies designed to promote the health of our planet and its inhabitants.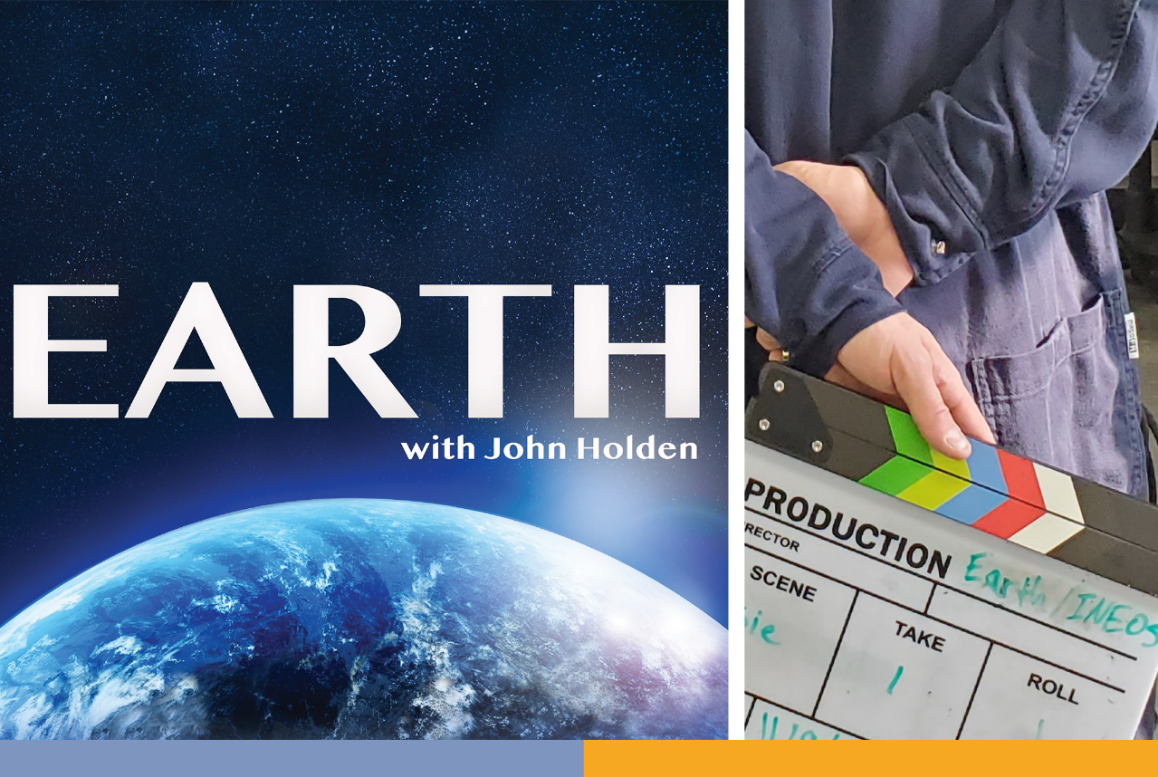 SHARING OUR STORY AND FACTS ABOUT STYRENICS
From production to re-use, INEOS Styrolution is closing the loop to keep plastics in a circular economy and out of landfills and John Holden, soon discovers that not all plastics are created equal.

1.2.3…ROLL CAMERAS AND TAKE ACTION
Unfortunately, the public tends to make generalizations about the value of plastics, often not realising the diverse use and highly engineered design that goes into their final applications. Polystyrene for example, is a valuable material deeply integrated into our modern way-of-living.
Colleagues from INEOS Styrolution America are taking action, hoping to counter public misinformation and change negative narratives. The team shares facts on the science, value, and sustainable nature of these materials with public audiences worldwide.
In episode 19 of EARTH, our team meets with John Holden on location at our INEOS Styrolution polystyrene plant located in Channahon, Illinois, USA. Colleagues discuss the many valuable benefits and essential roles that plastics service within modern society and describe how INEOS Styrolution fits within the conversation.


Ricardo Cuetos, Vice President Americas Standard Products, INEOS Styrolution, says:
"We were very pleased to have this opportunity to meet with John Holden." Mr. Cuetos continues, "INEOS Styrolution focuses on bringing long-term, truly viable solutions to the market that will ensure our materials can be recycled and re-used again and again. Recent innovation and progress in advanced recycling technologies have allowed polystyrene to be even more sustainable than ever before."


Cassie Bradley, Sustainability Commercial Manager, INEOS Styrolution, states:
"Polystyrene and plastics in general, are a highly valuable material to our society in terms of durability, cost and carbon footprint. Over time, to some, plastics have become viewed as disposable products; however, these materials are used in many durable, high-value applications and should be recognized as valuable based on their benefits to our society and our planet. They should be recovered for recycling and re-use."
TUNE IN TO WATCH ON NETWORKS IN THE US AND CANADA
In the United States, the segment aired on the Fox Business Network on Sunday, March 6, 2022 at 5:00 p.m. EST and on Bloomberg TV on Sunday, March 13, 2022 at 3:30 p.m. EDT and will again air on Sunday, March 20, 2022 at 3:30 p.m. EDT.
In Canada, the segment will air on BNN Bloomberg Canada on Sunday, March 20, 2022 at 10:00 a.m. EDT.
STREAM TO WATCH WORLDWIDE
This segment of EARTH with John Holden will also be available worldwide on the streaming platforms Google TV, Amazon Fire TV, Roku, and Vimeo.
Please enjoy our EARTH with John Holden video segment on our YouTube channel.