We set a new standard in the industry with the introduction of Terluran ECO®, our premium ABS grades with up to 70% recycled content. The two grades Terluran® ECO GP-22 MR50 and Terluran® ECO GP-22 MR70 contain 50 and 70 percent of recycled post-consumer waste electrical and electronic equipment (WEEE), respectively. The materials, which have a high-gloss surface finish, are available in black, and are aimed at household and electronics applications.
With our unmatched R&D expertise and unrivalled access to formulation components, we ensured that the recycled grades matches the mechanical property profile of our virgin ABS grades, and could be used as a drop-in solution by our customers. This means that manufacturers do not have to adapt their moulding concepts or change their injection components. Moreover, this recycling process is less energy-intensive, has a much lower carbon footprint in comparison to conventional production processes and will reduce the amount of waste that ends up in landfill.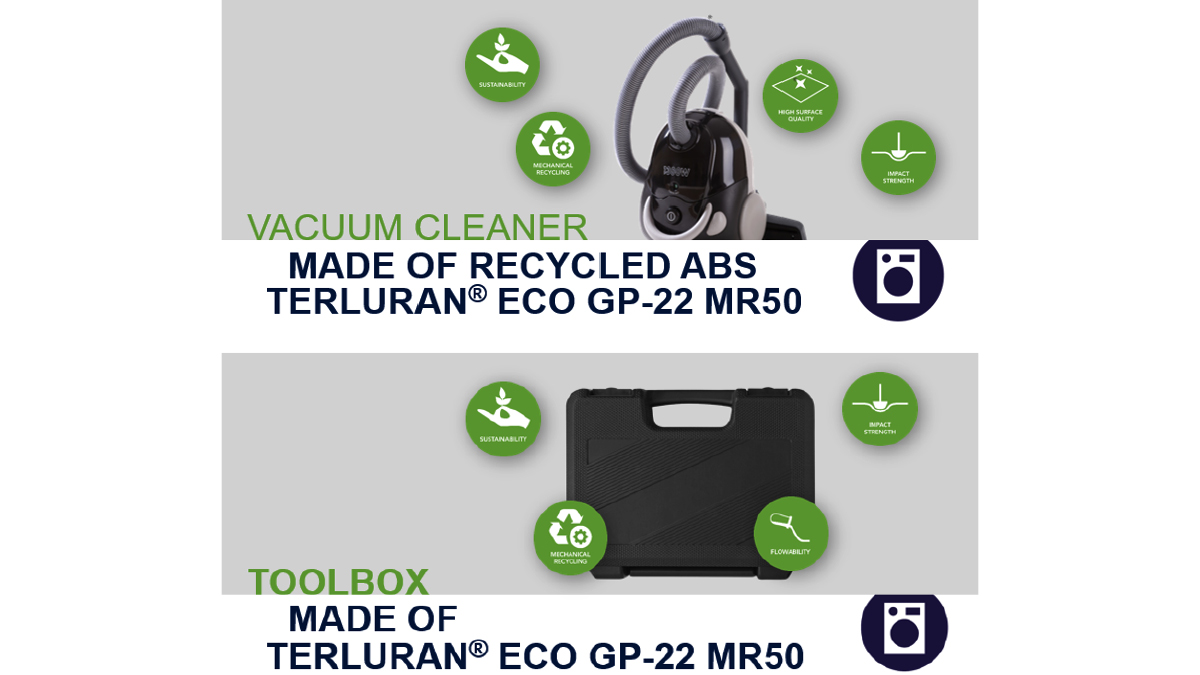 En route to recycling globally
Following its success in EMEA, Terluran® ECO has been well received by brand owners and converters in the Americas and Asia. There has been a rapid growth in demand and capacity for this product. Several blue-chip companies have evaluated the new material and plan to announce first applications in the market shortly.
We have now signed agreements with an Austrian recycler bage plastics, Korean recycler Samsung Resins, and Chinese recycler GER, to source high-quality WEEE (waste electrical and electronic equipment) to produce Terluran® ECO with 50% and 70% recycled content.
Building the best recycled ABS in the world - follow the journey of a coffee machine
As consumer brands are pledging to use more post-consumer recycled material in their products, there is a huge growth potential for this market over the coming years. We estimate that by 2025, our customers will need to consume three times more recycled ABS to reach their targets. And we are on track to address this need.